By Makenna Hess-Fletcher
As we reach the end of the Covid-19 semester, I'm wishing you wellness and positive thoughts. If you're anything like me, you may find yourself needing a bit of a study break at times. So here, I give to you my final playlist. This playlist features artists such as Phony Ppl, The Supremes, and Saba.
Hello! It's Makenna here. I'm hoping to share with you a little bit about the creation of this playlist. Throughout this week, I was reminded that I am being a little too hard on myself. Hearing from peers and trusted members of our campus on the zoom version of But Some of Us are Brave and Tan Lines (a cross over of the two) was refreshing. It made me feel connected and I realized I am not the only one being too hard on themselves right now. Before this quarantine, I could not catch a breath. So now I feel unproductive and fall into a slump when I feel like I am resting too much. A series of conversations I had this week made me introspective, asking myself, "why do I expect so much of myself, but also treat myself unkindly when I don't live up to those impossible standards?" Standards made especially impossible in this time. This self reflection was a lot to grapple with, so I went on a long walk. I shed a few tears. I began to create a playlist with songs that felt healing. I listened to the playlist and gave myself some grace. I went home and I decided that part of the self care would be to keep that playlist to myself and create a playlist that makes me feel good to share with everyone. I realized I need equal parts feel good music and songs that inspire personal reflection and healing. So here I give to you, the playlist of triumph, and dancing, the playlist that grew after a few tears. I hope you can dance to it too!
Tune in this week to listen to artists such as Shatta Wale, Willow Smith and The Internet.
Hi everyone! It's Makenna again. This weeks playlist is a compilation of music created by Queer people of color including artists like Syd, Kaytranada and Cakes da Killa. These are some of my favorite artists to listen to and I've chosen just one song from each of them, but I hope you'll consider diving deeper into some of their creations. Furthermore, as a Queer Black woman this playlist is close to my heart and I'll be listening right along with you. I hope you enjoy it!
This is Makenna Hess-Fletcher, class of 2022. A quarantine DJ with a deep love for music. I enjoy a variety of genres and I can be found listening both to what's "new" and what's been around for some time. Music is my go to mode of art that gets me through anything. During times of isolation, for many of us, music has the ability to make us feel a little closer to each other. Each issue of The Public I will share a playlist in hopes to provide a space for us to come together through music. Quarantine doesn't have to mean the absence of laughter and joy, so I've added a few of my favorite songs that happen to have titles that provide a little laugh, such as "Tired of Being Alone" by Al Green. I hope you find something in here that you love or even simply something new. Perhaps upon your first listen you find that nothing in this playlist speaks to you. Either way, keep coming back, keep listening, because someone else is listening too and it's a small way to be together. There will be a new playlist within every issue with a new variety of artists and sounds to bring you out of quarantine blues.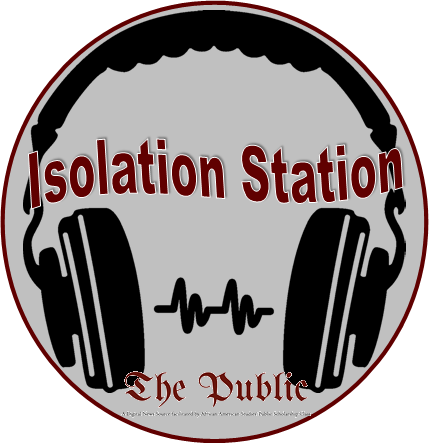 This week listen to artists such as: Solange, Aretha Franklin, Bootsy Collins, Childish Gambino and more.